March 4, 2013
ORGANIZATIONAL AND BUSINESS
Using Personality Tests to Understand How the Brain Learns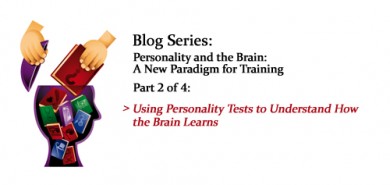 Because leadership and employee development programs are about people, and because people are effectively inseparable from their personalities, personality tests and assessments are used to help employees and leaders understand their own behavior.
A recent study by the research firm The Aberdeen Group shows that 92% of Best-in-Class companies and 87% of Fortune 500 companies use assessments to achieve results in the workplace. The study also predicts that the global market for behavioral assessments will continue to increase 10% to 20% each year beyond the current $2 billion annual figure. These statistics reflect the importance that organizations have assigned to understanding behavior. However, until recently, the brain styles of each personality and how they best learn is not factor into training and development programs.
Need to Understand the Whole Person
According to Warren Birge and Deborah Dorsett, executive consultants with Personalysis Corporation, an instrument that measures instinctive dimensions as well as rational and social ones should be used to gain a deeper understanding of an individual's personality. Instinctive elements reflect how people behave during prolonged stressors, multiple deadlines, and competing priorities; emotional elements predict how individuals bond with and relate to others, and how they behave when upset, disappointed or embarrassed; and rational elements reveal how employees make decisions and manage information.
Some standard personality tests—those that report results as a series of initials or a paragraph description—may have appropriate applications in other settings, but are unlikely to be adequate as predictors of workplace performance as they don't give insight into the emotions that drive behavior or the psychological needs that must be met to keep the brain engaged in learning.
Must Incorporate Brain Function & Development
The Striving Styles Personality System, based on Jung's theory and incorporating neuroscience, emotional intelligence and needs theory, has emerged as a way of understanding the more dynamic and interpersonal aspects of an individual's personality and how their needs and emotions support or get in the way of learning and development. It provides a fresh perspective on personality assessment and its use in development programs, one that looks through the lens of brain structure and function and the latest advances in neuroscience.
This is the second blog out of a four part series on the popular current subject of Personality and the Brain: A New Paradigm for Training.
Read more of this series: Part 1 - Why the Paradigm Needs to Change; Part 3 - Engaging Emotions to Facilitate Successful Training; Part 4 - A New Paradigm for Training: The Striving Styles Personality System
Download our Complimentary Article: Lessons to Learn